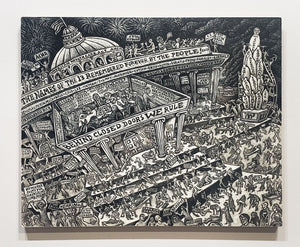 "The 13" (2017)
The first part of the process of repeal and replace. Never forgotten- the people built monuments and chiseled names in stone to memorialize the health of the nation.
by Dara Larson
16" x 20"
scratchboard - ink on clay
When you buy from Scout Gallery, you are supporting both a local small business and an artist in the Milwaukee, Wisconsin area. At least 70% of the art price goes right back to the artist in each sale.