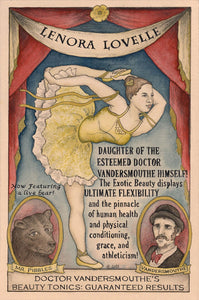 "Lenora Lovelle"
by Sue Lawton
giclee print; 2 sizes available- 8" x 5.5" & 13" x 9"
final product has white border; large size includes artist signature
illustration from artist's book, "The Circus and the Cyclone" (also available for purchase here.)
When you buy from Scout Gallery, you are supporting both a local small business and an artist in the Milwaukee, Wisconsin area. At least 70% of the art price goes right back to the artist in each sale.