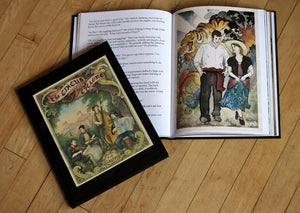 "The Circus and the Cyclone"
written and illustrated by Sue Lawton
hardcover book; 11" x 8.5"

From the author/artist:

"The Circus and the Cyclone is a fully illustrated work of historical fiction that takes place during one of Wisconsin's worst natural disasters – the destruction of the town of New Richmond by a tornado in 1899. The event was made even more tragic because a traveling circus had also arrived that day, attracting many outside visitors to the town.

This event, which has many tall tales of its own, provides an extravagant backdrop for my own invented yarns. A pair of childhood friends fall in love, a pair of clowns quarrel over the affections of a mysterious contortionist, and a human cannonball sets her sites on the moon. As the skies darken and the wind picks up, fates are turned and hidden truths are revealed! Doom is foretold by a fortune teller and a band of wandering musicians survives to narrate the tale."
When you buy from Scout Gallery, you are supporting both a local small business and an artist in the Milwaukee, Wisconsin area. At least 70% of the art price goes right back to the artist in each sale.