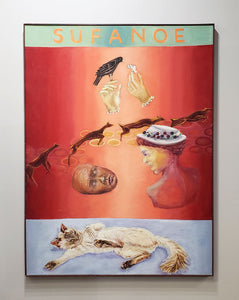 "Sufanoe"
by Stephanie Copoulos-Selle
57" x 42"
oil on canvas
Delivery & pickup only for this piece. Delivery charges are based on distance and vehicle rental charges. Contact us for a quote. Local pickup or $5 delivery option at checkout will secure your order; additional charges will be emailed.
When you buy from Scout Gallery, you are supporting both a local small business and an artist in the Milwaukee, Wisconsin area. At least 70% of the art price goes right back to the artist in each sale.