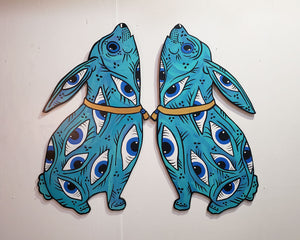 "Rabbit Rabbit"
by John Kowalczyk
42" x 24" each (only left-facing rabbit available)
acrylic on wood cutout
local pickup/delivery; contact for shipping
"According to superstition, when person says or repeats the word rabbit aloud upon waking on the first day of the month, it will ensure good luck for the rest of it."
When you buy from Scout Gallery, you are supporting both a local small business and an artist in the Milwaukee, Wisconsin area. At least 70% of the art price goes right back to the artist in each sale.